When you drive a Lincoln, you're choosing to drive a brand that's not just a car brand, it's a lifestyle brand. All our vehicles capture the essence of the Lincoln spirit, and make you feel good driving them. It's fun to express yourself driving in your Lincoln, and we believe you can do that when you're not driving, too. That's why here at Napleton Lincoln in Glenview, you can showcase your love for Lincoln with our Lincoln accessories here at the dealership.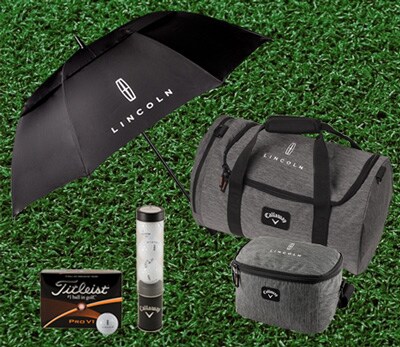 We have many different Lincoln apparel items from umbrellas, to bags, golf balls, t-shirts, jackets, hats, water bottles, and more. Along with that, there's also accessories like phone chargers, and more to add to the overall technology suite in your Lincoln, and take them with you on the go.
You can find a variety of Lincoln Accessories here in our showroom in Glenview. These make standout gift options for the Lincoln enthusiast in your circle of friends and family, but also can provide you with the ability to live the luxury lifestyle you want, by showing your allegiance to a brand that provides only the finest American-made luxury quality.
If you want to learn more about our Lincoln Collection lineup here in our showroom, feel free to contact us, or stop in and see us here in our showroom. If you have something in mind that you don't see in stores, there are plenty of options we can custom order for you! We'd be happy to answer any questions, and help you find accessories, and of course, a new Lincoln model today.